♪The 68th Summer School(July 30th to August 2nd ,2019 at Matsumoto、Japan)

(2019-1-9up)

In 2019, the Summer School for all instruments (Violin ,Viola, Cello, Flute and Piano) will be held on the same dates. (July 30th to August 2nd, 2019)

We are now preparing with many interesting and comfortable programs

― Many lesson options
(Repertoire Classes, Group Lessons, String Ensemble Lessons, Master Classes for Advanced Students, Afternoon Concerts, etc.)
― The Opening Ceremony on July 30th
― The Special Evening Concerts on July30th and August 1st.
― The Farewell Concert on August 2nd
― Targeting full coverage of air conditioned environment for lessons and concerts.

We sincerely welcome worldwide participants from overseas!

Let's meet in Matsumoto, Japan on July 30th , 2019!

»Please read the message from the chair person, Ms Etsuko Suehiro.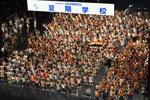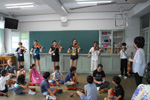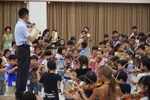 ↑ Click image enlargement
The first Suzuki Method official website in China

(2018-11-07)

The good news that the first Suzuki Method official website in China has been established arrived from Asia Region Suzuki Association.

Please see the website from the following URL;

https://suzukihq.com/ *ARSA Announcement(PDF)



| | | |
| --- | --- | --- |
| Topics | | update |
| Dr.Suzuki's(Suzuki Sensei) 120th birthday | »Click Here | 2018-10-17 |
| Suzuki Archives, "Dr. Suzuki's Message | »Click Here | 2016-01-20 |
| Donation Used Violins to Jamaica. | »Click Here | 2016-11-1 |
Inquiries
·Address
Talent Education Research Institute ,
The International Academy of the Suzuki Method,
Headquaters:
3-10-3 Fukashi, Matsumoto-shi, Nagano-ken 390-8511 JAPAN
TEL: +81-263-32-7171 FAX: +81-263-32-7451
·E-mail
Inquiries may be sent to
Talent Education Research Institute at teri@suzukimethod.or.jp